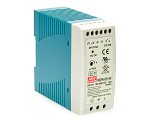 MEAN WELL
Mean Well Enterprises Co. Ltd., located in Tajwanie is a leader in design and manufacturing of impulse energy sources, which include AC/DC power supplies, DC/DC converters, DC/AC inverters and battery chargers.

Offered devices are meant to be mounted inside of existng electronic systems (Open Frame series), on DIN rail or used as standalone products. As company grew, product portfolio grew even faster reaching around 2000 models.

With distribution network widely developed around the world, and long time experience in development and manufacturing makes Mean Well a very strong company, which gives it's customers feeling of safety and stability.

From 1994 company is managed according to ISO 9001, while it's products conform with TUV, UL, CSA and S MARK.

All devices shipped to EU are manufactured in lead-free technology (RoHS).